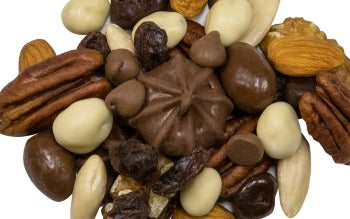 National Milk Chocolate Day
The classic choice for chocolate, milk chocolate is a favorite of many. Milk chocolate is made similarly to dark chocolate, but uses less cocoa and adds milk powder or condensed milk. It's the sweeter chocolate counterpart to dark and the base of many popular candy bars and sweet treats. It has a smoother, creamier taste with less bite and makes for a great choice for melting.
To celebrate National Milk Chocolate Day, we're sharing our favorite milk chocolate snacks:
Milk Chocolate Malt Balls
Our milk chocolate malt balls are a rich, classic treat. Crunchy centers smothered in smooth milk chocolate. It's a favorite treat of many.
Double Dipped Chocolate Peanuts
For the chocolate lovers out there, our double dipped peanuts are the perfect sweet treat. We dip peanuts twice in delicious milk chocolate that will soon become your favorite snack.
Sienna Cream Crunch
A blend of the smoothest chocolate with an added crunch. The all natural mix consists of raisins, natural yogurt raisins, milk chocolate drops, chocolate stars, walnuts, almonds, natural milk chocolate peanuts, pecans and natural dark chocolate raisins. Packaged in our Truly Good standup resealable bag for easy grab-n-go snacking.
Chocolate Pretzels
A classic sweet and salty snack. Available in our Why Knots? stand up resealable bags for easy grab-n-go snacking.
Chocolate Enticement
Prepare to be enticed by this deceptively simple snack mix with classic roasted and salted almonds and roasted and salted peanuts with a dash of a sweet treat – chocolate raisins. It's a snack sensation that's the best of salty and sweet. Available in our Truly Good standup resealable bags for easy snacking.

Moonburst trEAT4u
An interesting mix of nuts and dried fruit with a sweet addition of chocolate. This mix includes peanuts, raisins, almonds and organic chocolate chips. Available in trEAT4u 1oz bags which are ideal for grab-n-go snacking.
Poppin' Nut Crunch
A fun salty and sweet combo with white and chocolate drizzled caramel corn, white drops. roasted and salted peanuts, pecans and cashews, and chocolate chunks.
Banana Split
The sundae snack you crave without the ice cream calories, this mix includes roasted and salted peanuts, pineapple, chocolate chunks, caramel bits, cherry flavored cranberries, banana chips and marshmallow bits.